Discussion Starter
·
#1
·
Hi All,
Evolve Automotive ECU Remap Special Offer for babybmw.net members.
ECU Remaps:
118d 143bhp +35bhp / 50 lb.ft
120d 163bhp +45bhp / 65 lb.ft
120d 177bhp +40bhp / 60 lb.ft
123d 204bhp +40bhp / 60 lb.ft
135i 306bhp +55bhp / 75 lb.ft
All of our ECU remaps are developed both on road and on our Dyno Dynamics Dyno. During development cars are fully instrumented with our data logging equipment (constantly logging fluid temperatures, gas temperatures and air fuel ratios).
The dyno has the ability to hold so we can create even the most extreme conditions.
Our Dastek 20hp cooling fan generates wind speeds of 100mph and can keep even the M5 V10 engine cool even under the most extreme loads.
Previous work includes a 335d which beats M3 CSL's at Fighting Torque and the most powerful MOT passable Z3M Roadster giving 353bhp.
Our power claims are conservative. It is very common for our remapped cars to go to other dyno's and make more power there.
Dyno Graphs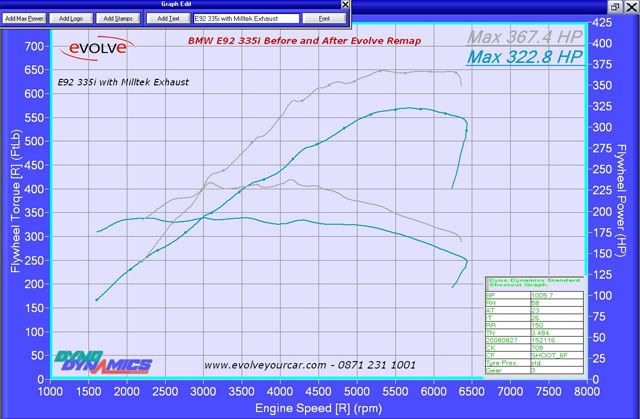 Warranty
Evolve offer a fully comprehensive warranty. If a warranty claim is refused by a main dealer as a result of our ECU software then Evolve will repair your vehicle. This is included in the price. Please contact for further details on our warranty.
Prices
118d 143bhp, RRP is £499, forum price £399
120d 163bhp, RRP is £499, forum price £399
120d 177bhp, RRP is £499, forum price £399
123d 204bhp, RRP is £549, forum price £449
135i 306bhp, RRP is £999, forum price £749
All software is loaded through the OBD2 port.
Dyno sessions are available at an additional £50.
These prices are valid until end of September 2008.
Group buys available - please contact for more info.
Contact - 0871 231 1001 / 1020
[email protected]