Most of you will probably know that I've been loitering for a while, actually I've checked and I joined Nov 2010! Since about that time I've also been stalking Auto Trader, Piston Heads, eBay and the BMW AUC site daily, looking for a suitable victim. It's been an interesting process, watching cars appear on one site, then disappear only to appear on another site.
One advert caught my eye late August on Piston Heads, only because it had one thumbnail photo and the description was brief to say the least.
A month later it appeared on eBay, same price, a few more pictures and a slightly revised description. There were no successful bids.
It then reappeared on eBay again, this time at a slightly lower price so I thought I'd give it a go, intending on making an offer if everything checked out. I made some an initial enquiries via email to the seller, even asking for some additional photos to be taken in areas that were lacking (like the interior).
Having obtained the registration number I then called the BMW Customer Information Department (UK) on 09062090001 to confirm that the details on the advert were correct. For those that do not know, BMW are able to confirm the following details from a registration number:
• The model, colour and optional extras that were ordered, including the code numbers. So I got:
Le Mans Blue 381
Black Leather LWSW
Sun Protection Glass 420
Heated Seats 494
Park Distance Control 508
Xenon Headlamps 522
Cruise Control 540
USB Audio Interface 6FL
Bluetooth Phone Prep 644
BMW Profession al Radio 663
• The price when new
• A history of dealer visits with dates
Having obtained the details from BMW it became apparent that some of the information on the advert did not tally. Things like advertising the car with Bluetooth and Telematics rather than Bluetooth Phone Prep or Electric Memory Seats rather than just Electric Lumbar Support. When asked, the seller explained that they had merely copied what they thought the description ought to be from another advert and had not understood what the options actually were. Uhmmm… but after a bit of questioning I was happy with the outcome.
I was also able to carry out an HPI check, which picked up:
• VRM currently recorded as having outstanding finance, with BMW FINANCIAL SERVICES (GB) LTD.
On this I made an offer on the car, which included the following terms:
• It would need to pass a prearranged inspection by an independent BMW specialist
• We would then visit my bank and arrange payment straight to BMW FINANCIAL SERVICES (GB) LTD to pay off the finance
• The balance would then be paid to the sellers bank account
My offer was rejected. O well, there's plenty more fish in the sea.
The eBay advert subsequently expired.
A couple of weeks later the car was advertised on Auto Trader. After what seemed like an eternity, I thought I'd make a revised offer, which after a bit of haggling was eventually accepted. So I applied for a loan, waited for the funds to arrive and arranged to pick the car up.
So, I arranged for a train and overnight stay last night, to make the early start this morning (8am) of the prearranged inspection by the independent BMW specialist. The seller would pick me up from the hotel and this would also allow me to visual inspect and test drive the car for the first time.
The inspection uncovered a few issues (but I decided to get these fixed under the BMW warranty), BMW were paid off and I had a great 250 mile drive home this afternoon, with my new 1'er, a 2009 Le Mans Blue 135i. I've attached a few photos.
Before I had driven the car home, I had made an extensive list of possible enhancements I'd like to make to the car. But, while driving it home I thought about the items I was going to upgrade and have decided not to, everything about the car is fine. I like my tiny mirrors, they are a work of art. Even the run flats, ok they're firm but it's a sport car. I may go the non RFT route, but only due to the cost.
Dead chuffed to say the least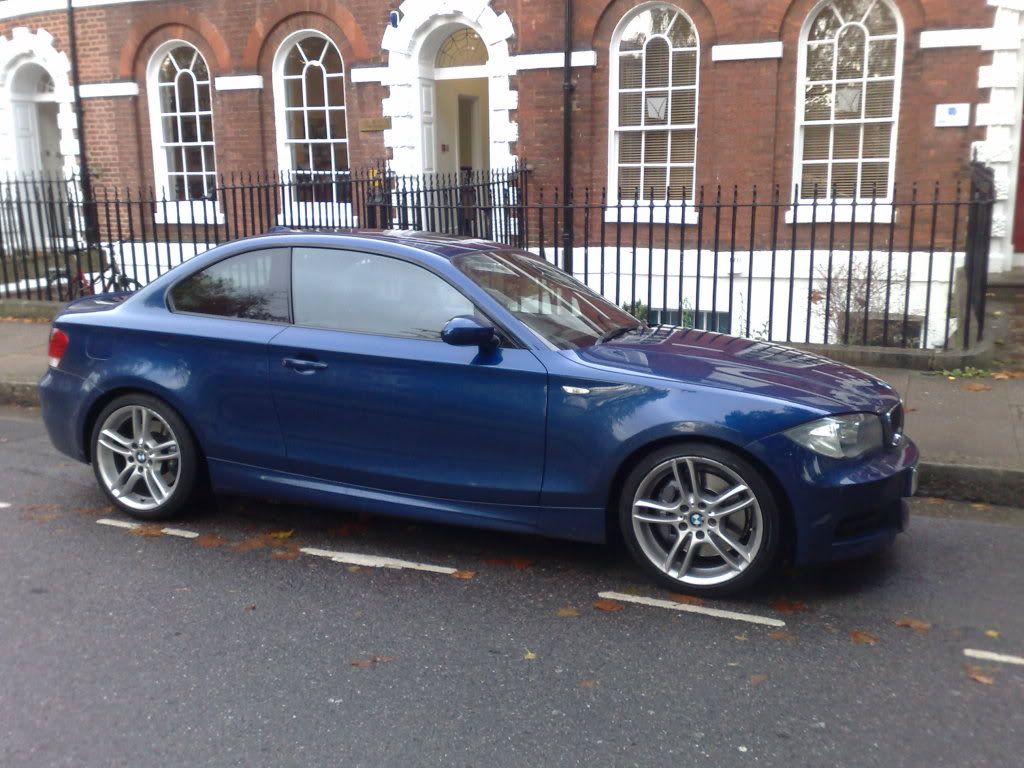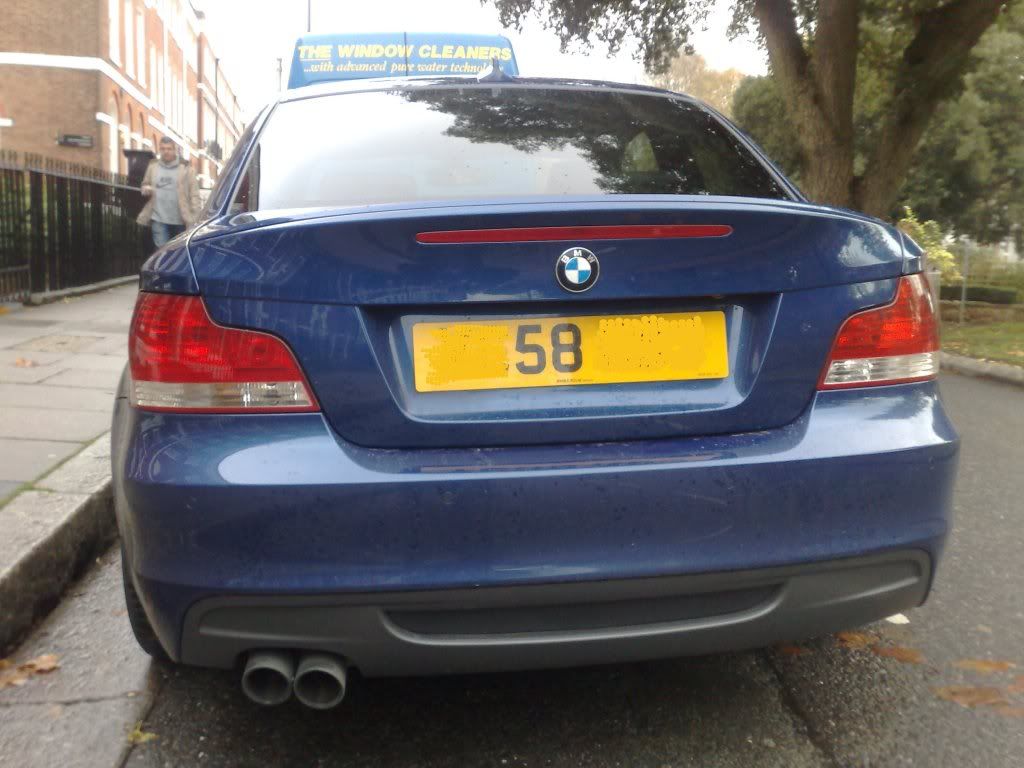 Everybody have a nice weekend.