Wheels are those areas that can be a real pain in the rear to clean up and make look good - but again, with the right products can be done with relative ease.
Everyone will have their own thoughts of when to clean the wheels. Some people do them first, some people do them last of all, I like to do them after the pre-wash and snow foam stages however. My reasoning is simple - the dirtier the wheel, the more soaking that they need before you get intimate with any kind of wheel brushes, so the combination of Citrus Pre-Wash, then Snow Foam and the pressure washer are all put to good use before I clean the wheels. Once the car has been foamed and rinsed, I crack on with washing them.
Wheel cleaning falls into 2 areas - maintenance cleans and deep cleans. The differences will be apparent as we go. Both our cars get cleaned at least fortnightly - a different one each week, so the wheels never really get chance for huge build ups of brake dust and contaminants, so a weekly wash is a maintenance wash. The deep clean is usually every other month to fully remove contamination and re-seal wheels to protect them. Lets start with tools and products.
Below is the regular products I use to clean wheels, a normal detailing brush, and simple carplan wheel brush and a Vikan wheel brush. The Vikan brush is great because its thinner at the tip (great for getting behind wheel spokes and scrubbing) and larger at the handle end for getting between areas in the middle of the wheel. You can buy any number of wheel brushes from £3 to £30 - pick one you like and learn to use them. A good tip for anyone worried that the plastic bristles may scratch your wheels (and they can..) - put them in warm / hot water for a few minutes first - it softens the plastic up
Especially for winter use that one...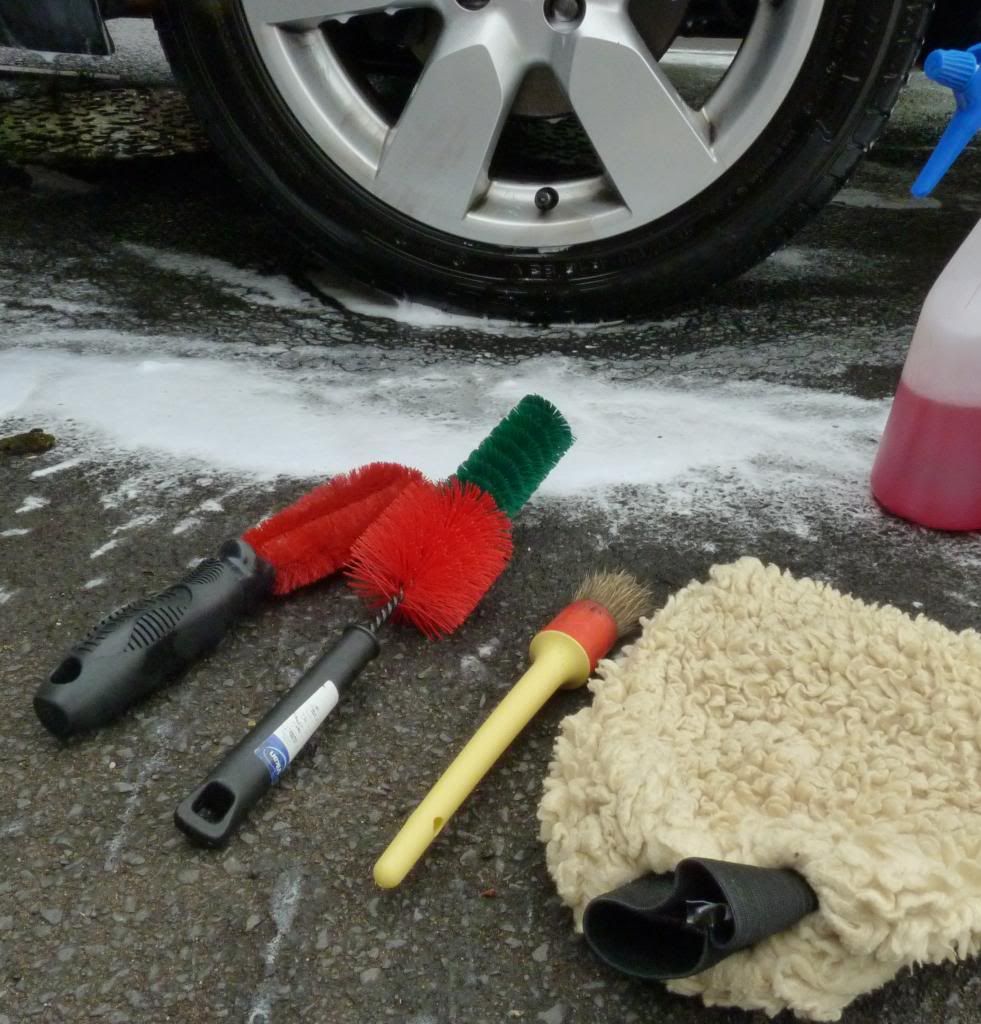 Wheel Woolies are the latest thing for wheels, no chance of scratching wheels with these bad boys:
http://www.polishedbliss.co.uk/cgi-bin/ ... #aEFWW0001
" onclick="window.open(this.href);return false;
So for a deep clean up - Id get spraying first with a metal fall-out remover, in this case Autobrite Purple Rain (remember to use gloves with this stuff):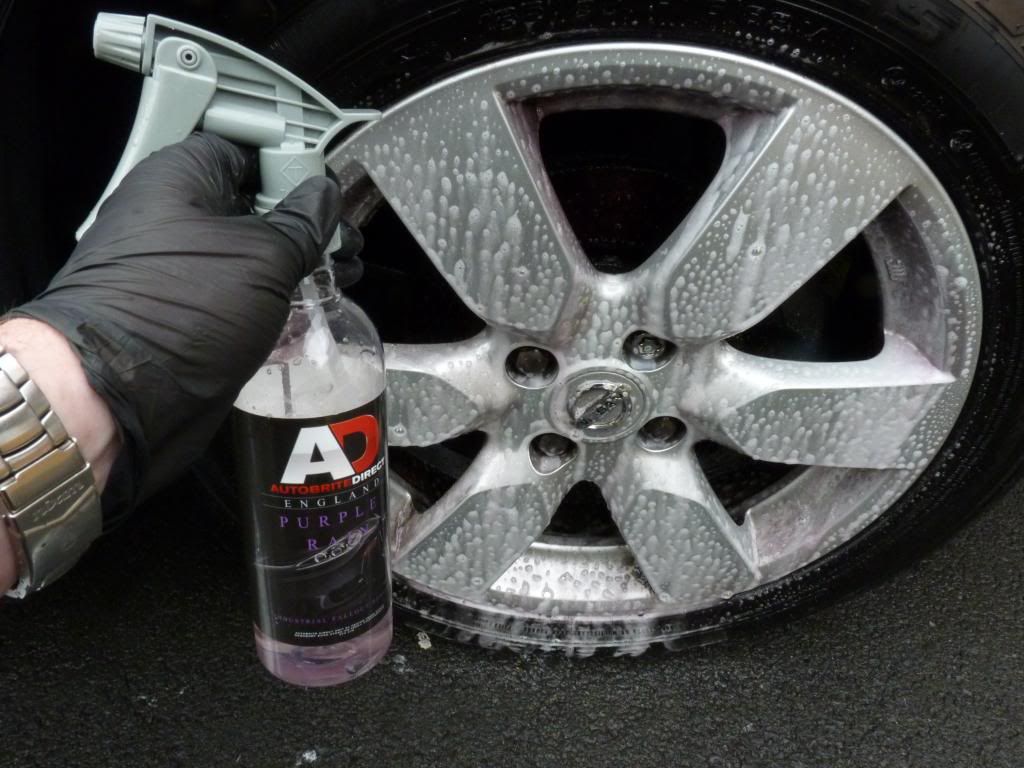 And Id leave it to react for a while: (a few minutes)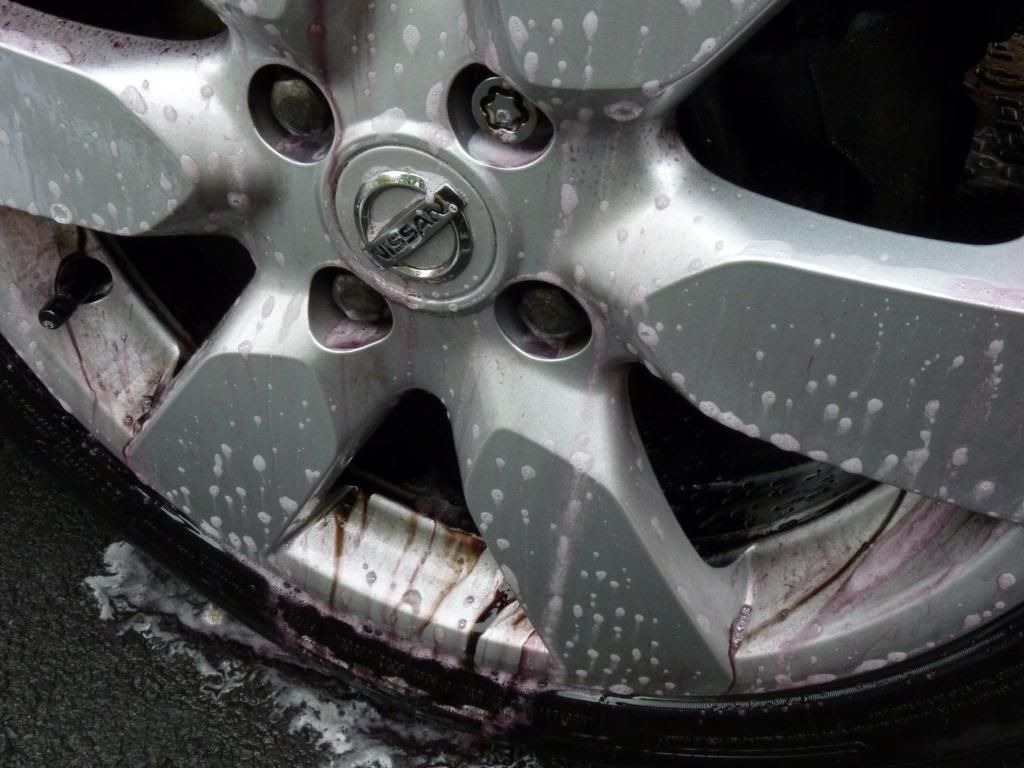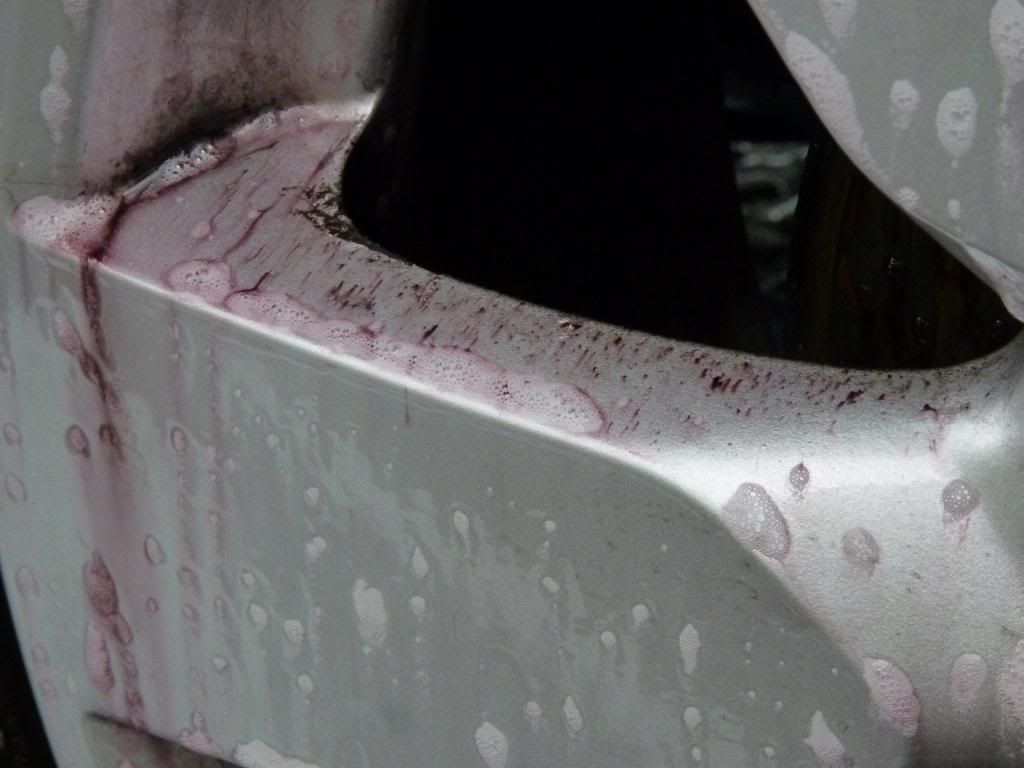 Then Id get the smaller detailing brush to work: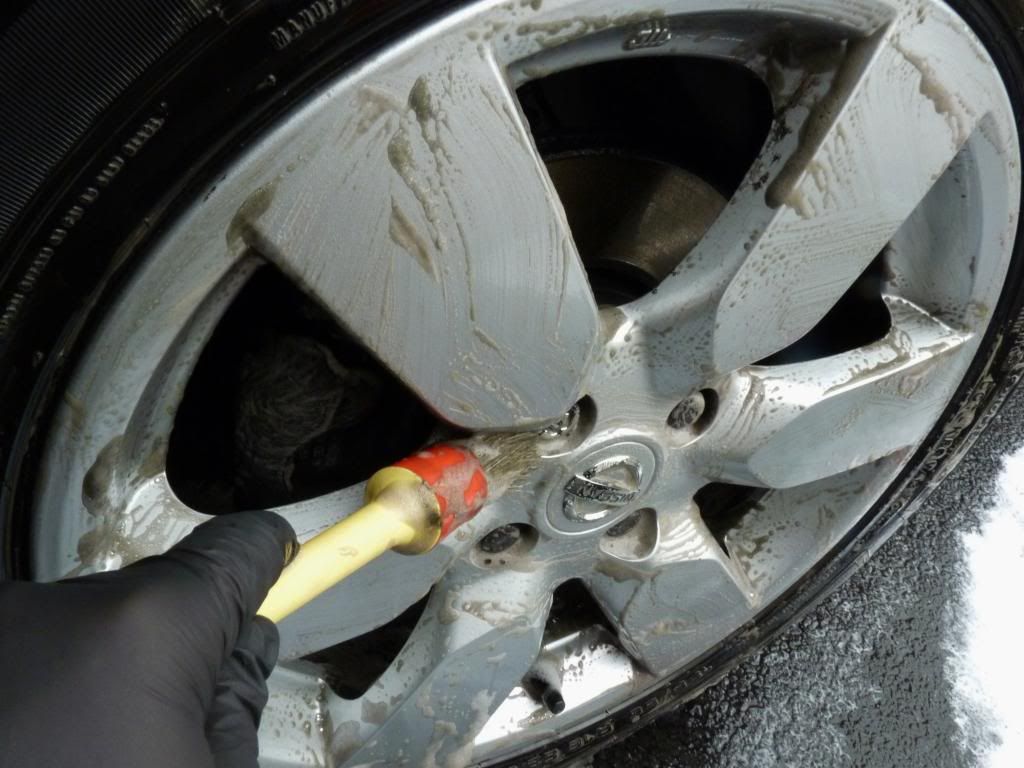 Then the bigger wheel brush: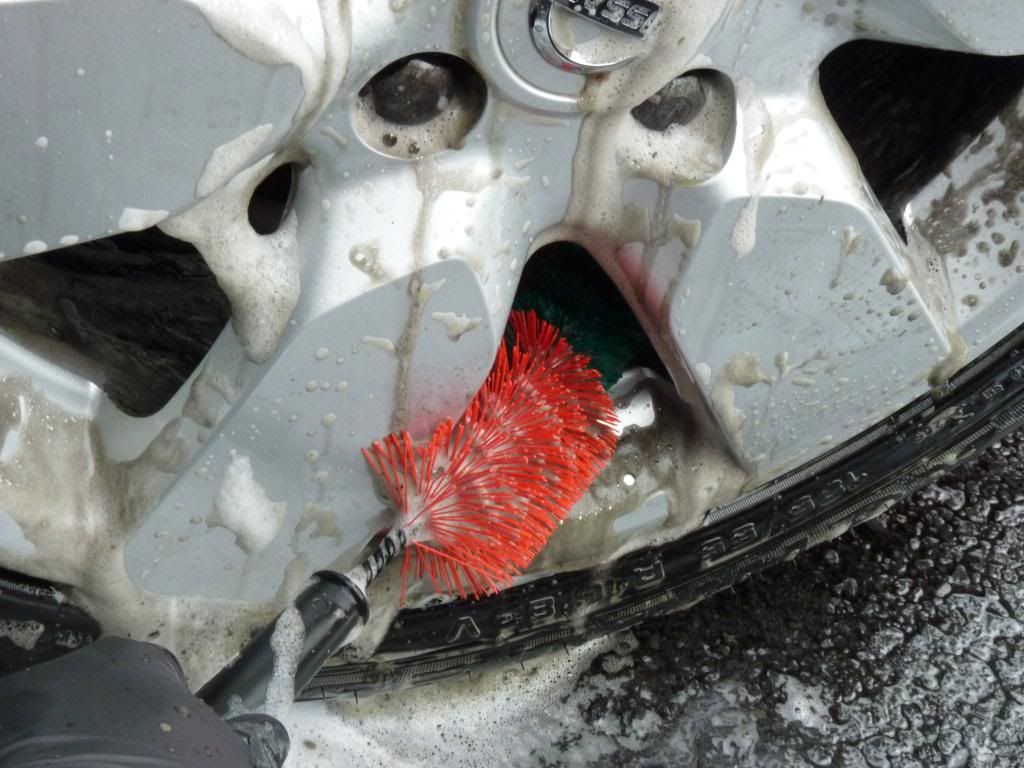 At this point - once I was happy the product had been thoroughly worked in - Id pressure wash off the fall out remover. Then i'd use wheel cleaner (Valet Pro Billberry used here) and get in and get a final clean onto the wheels with a wash mitt :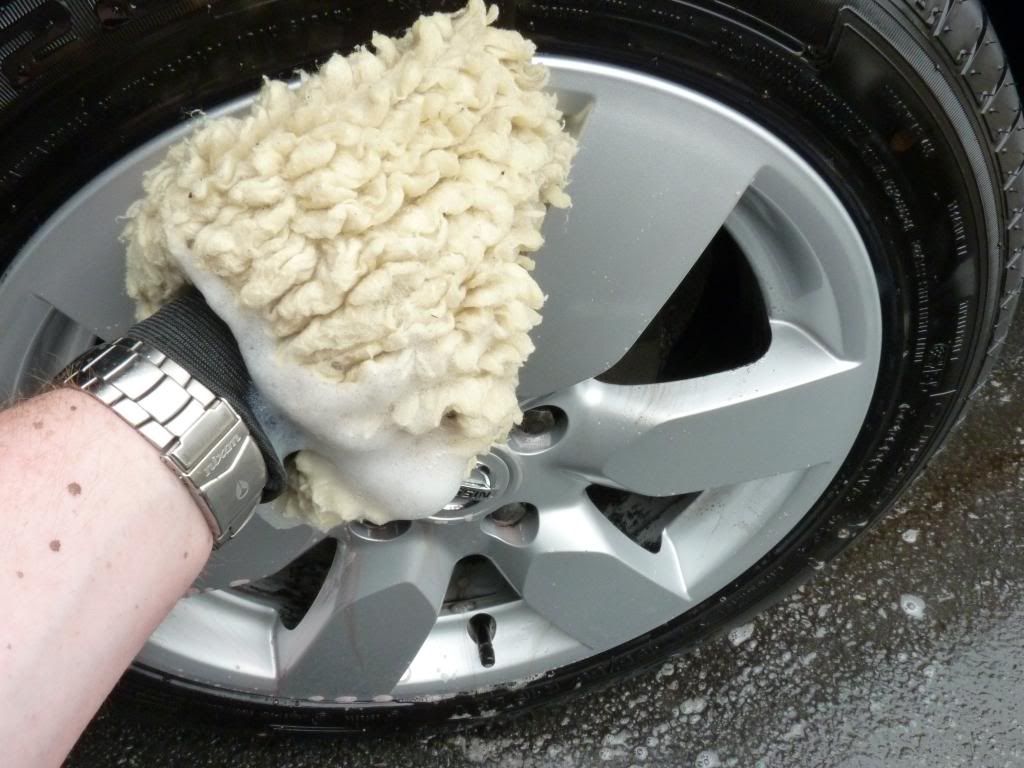 During this process, its important to clean the sidewalls of the tyres, as this helps any tyre dressing products you want to use stick to it. 'Tyre fling' is caused when too much tyre dressing is used, or it hasn't set on the tyre yet and it 'flings' up the side of your car. A good scrub of the tyre wall helps stop this: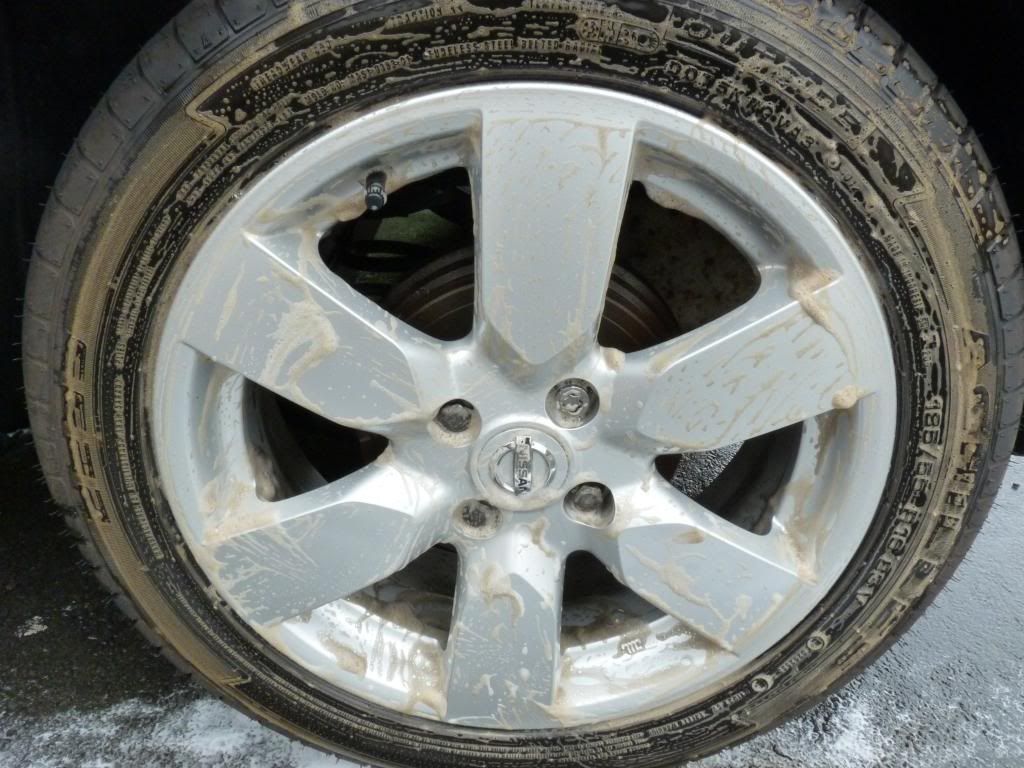 Once the wheels are fully rinsed again - its time to dry the wheels and carry on with your normal car wash routine, before finally returning to dress the wheels. It's also worth checking for tar spots to be removed at this stage too - Tardis or clay can remove that easily enough though
Wheel cleaners are mostly Alkaline based, however, sometimes they aren't strong enough to remove every bit of baked on contamination - this is where Acid based cleaners get used. These are very strong and should not be used very often on your wheels - too much use can dull or damage the lacquer on your wheels.
A good wheel sealant is essential in stopping wheel grime build up on wheels. It means a 'weekly maintenance wash' can be achieved with a simple pressure wash off of all the dirt and brake dust that sticks to the wheels. Normal car wax CAN be used for this process, however, because wheels get hot during use, the wax that's applied has the opposite effect for what you want - It ATTRACTS dirt and dust to the wheel. You can also find that in the summer - on the odd hot days we have, you get a similar effect on your bodywork. Spray sealants (Carpro Reload and Auto Finesse Tough Coat) are fantastic products to use on these if you use the products normally, they go on and off VERY easily and give a great shine and last about 8 weeks. Carpro Reload has been applied here on both the wheels and brake calipers to protect them from dust: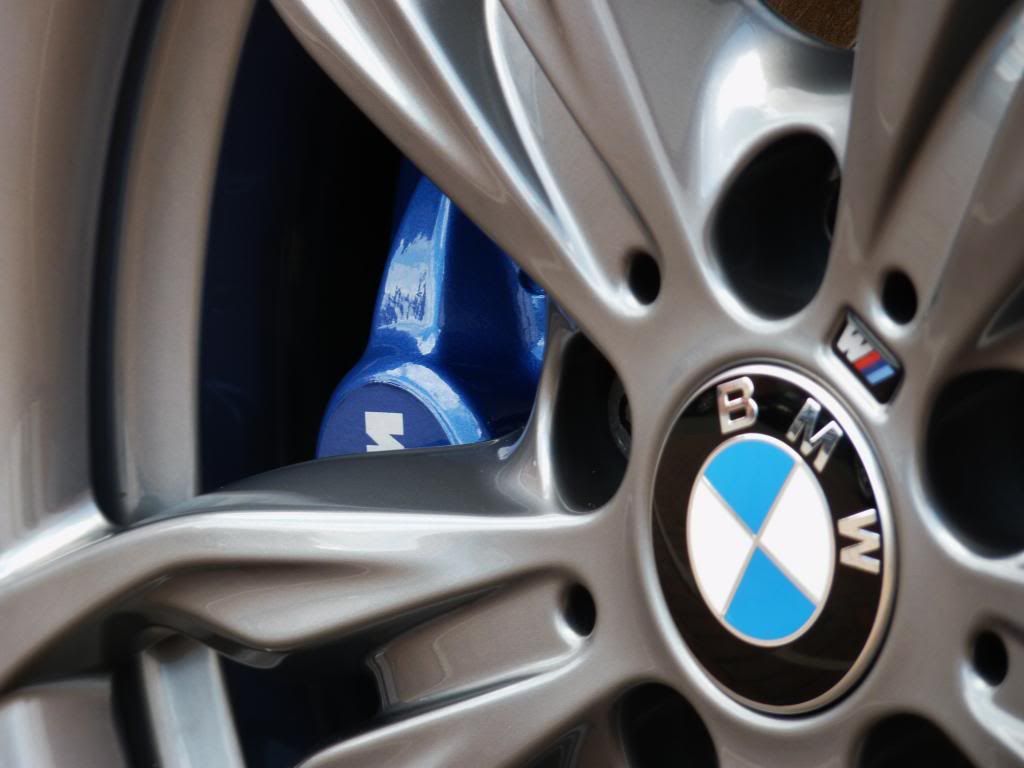 Another product that is highly recommended on wheels and exhaust trim, is Planet Polish Wheel Seal and Shine, a fully dedicated sealant that can last up to 3 months (or longer) this is what we Ive used in the next picture. It only takes a few minutes to apply - leave to bond for 5 and then buff clean.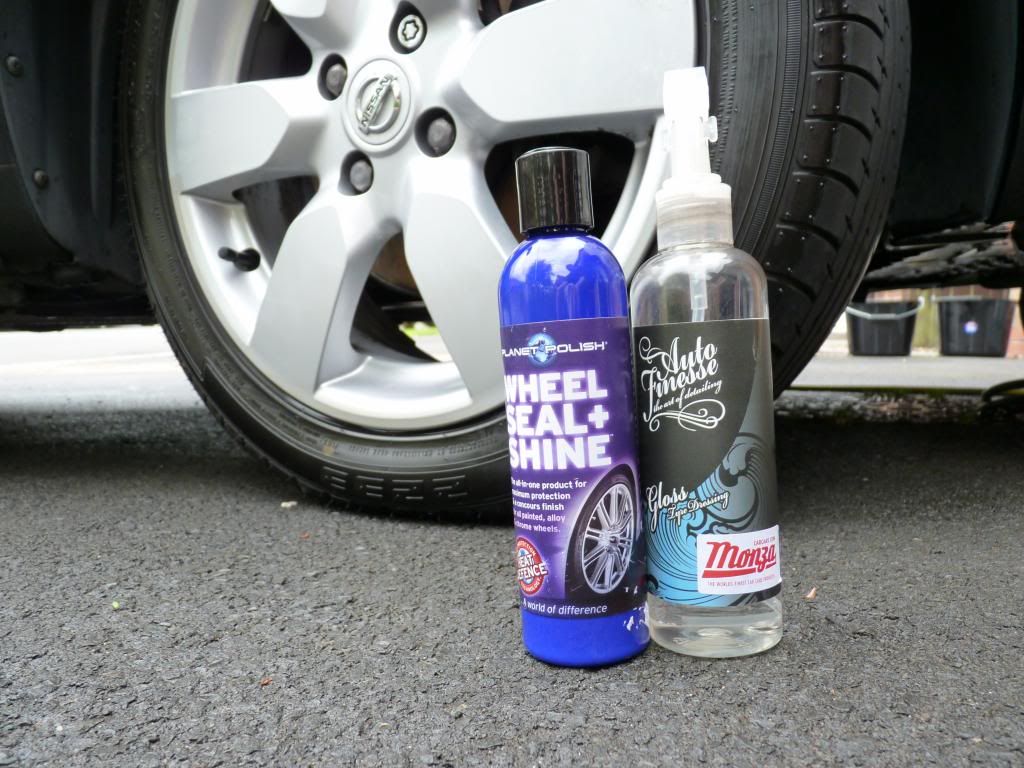 For a final finish - tyre dressing is used. I apply mine with a microfibre pad as it makes application very easy indeed. Normally - the more you apply - the glossier the finish. If you've applied too much dressing - give it a wipe over with a clean cloth until you are happy with the look achieved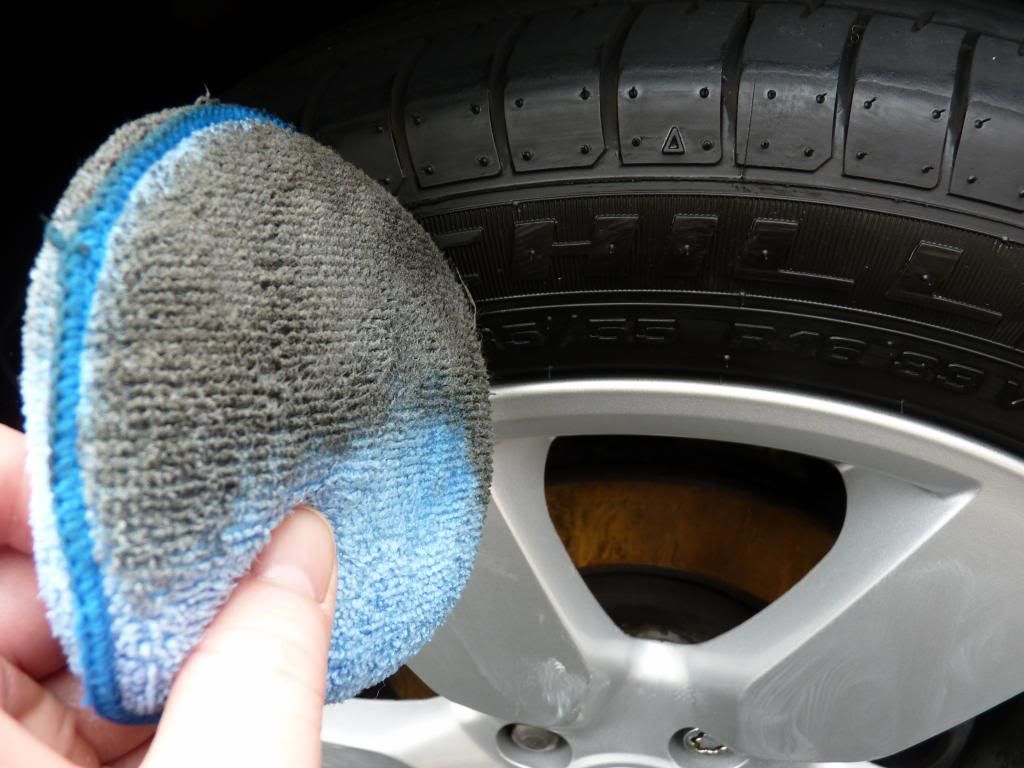 Auto Finesse Gloss is used here, however there are loads of recommended products out their:
Auto Finesse Satin
Orchard Car Care Glitz
Valet Pro Traditional
Meguiars Endurance
AutoGlym Tyre Dressing (although it doesn't last as long as the others mentioned here)
The finished look!