Having spoken with Admin I have been given the ok to post, as i need to gauge interest in a BabyBMW car club day at Millbrook Proving Ground courtesy of CAT Driver training.
I have attended a couple of courses run by CAT over the years and they represent great value for money considering the wealth of knowledge and expertise they bring to the table and the level of tuition you receive whilst experiencing what Millbrook has to offer.
I know a few guys have posted about the BMW experience day and I thought it would be an opportunity to speak with CAT to offer an alternative, as with this course you learn in your own car.
The calendar for this year is already shaping up to be a busy one so I have 2 potential dates to offer both are in May on the 6th or the 21st..
We need a minimum of 3 people to confirm but ideally would like to get 6 names to secure a further discount.
Official details from CAT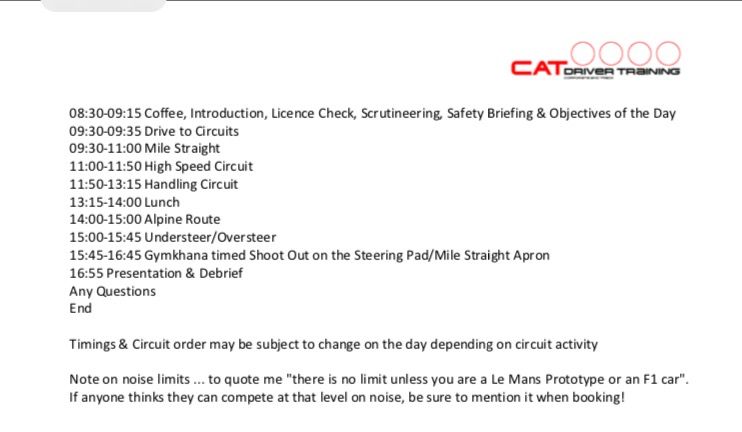 If anyone's interested add your names and car details below so we can get this organised. Any preference to above dates also please.
1. Wes (digitalrogue) M140i 21st May * deposit paid
2. Andy Knight M135i 21st May * deposit paid
3. Kent Dan M140i 21st May * paid in full
4. Stevep123 M240i 21st May * paid in full
5. Mouse140 M140i 21st May * paid in full
6. ChrisGJ M140i 21st May * deposit paid
.............................................
Reserves
1. wolwo77
2. M135iDan
3. Walshybwoy
4. Lambster